A digital lock can add a lot to your home's security and can make access much more convenient for all family members. Modern digital locks come with a variety of features that make them simple and straightforward to use.
Starke's Seamless Désignerin and Keywe's 360 Smartphone Push Pull are popular models of digital locks in Singapore. We've compared the two models from various perspectives to help you with your shopping!
Starke Seamless™ Désignerin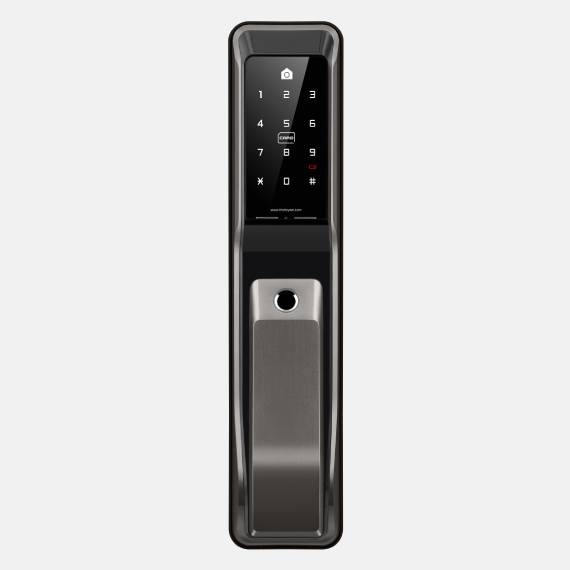 Keywe 360 Smartphone Push Pull Digital Lock
Price and Warranty (Verdict: Starke offers a better deal) 
Starke's lock is significantly cheaper, starting at $559.90 as opposed to $899 for the Keywe 360. It also comes with 2 years of warranty, while Keywe only offers 1 year by default. Beyond the first year, warranty only covers certain parts and not the entire lock. This can make the Starke Seamless Désignerin a smarter long-term investment. Buyers should also keep in mind that they might have to pay for the installation of the Keywe 360, depending on the retailer, whereas Starke's locks come with free installation.
Security (Verdict: Starke proves better in this category)
Both models are very secure. They have been tested extensively as there are no unexpected hiccups in their operation. Starke's Seamless Désignerin works very well in a rush, as its fingerprint reader is able to recognise the user's finger almost immediately. On the other hand, Keywe's lock has a slight delay, but nothing too serious.
Both models are great for homes with a lot of people coming and going, since they both offer detailed user access logs. It provides in-depth information about who has used the lock and when. This can allow users to figure out if anyone is using a password they should not have access to.
Starke's digital locks offer real-time updates through the mobile app
Automatic relocking is available in both models as well. Since the Keywe 360 digital lock is more reliant on a smartphone, users should verify that their device is supported by the lock. Otherwise, they may not be able to take advantage of this feature. Starke's automatic relocking works smoothly and seamlessly. It doesn't rely on a Bluetooth connection by default.
Extra Features (Verdict: Starke has a slight advantage)
Starke's Seamless Désignerin can be fitted to a wider range of doors than the Keywe 360. It also has an emergency USB charging port in case its batteries die at an inconvenient moment and you don't have the backup keys on your person. It also displays some additional information like the current date and time on its screen.
Awards (Verdict: Starke boasts more titles)
Starke's digital locks have won several titles for itself, such as:
Design (Verdict: It's a tie between both models)
Starke's Seamless Désignerin vs Keywe 360 Smartphone Push Pull
With a sturdy design utilising quality materials, both locks are built for durability from the ground up. We couldn't find any obvious physical access points. In fact, both models make it exceptionally hard to access their internals during normal operation. Opening each lock is possible while it's unlocked, which can simplify maintenance. However, both models are made well enough that they shouldn't require any actual physical maintenance most of the time.
There are no obvious electronic exploits either – the locks only work with the original phones and accessories they are configured with.
Some users are wary of digital locks that utilise physical keys as a backup. This is not a problem with these models though. The keys are not standard ones and their locks require more specialised equipment to pick, but both locks should be able to keep intruders out.
One small downside to Keywe's model is that it features more moving parts, which means there are more opportunities for something to break in the long run. While the lock is made to be as durable as possible, users should be careful with the handle as its hinges might start to wear out after extensive use.
Access Options (Verdict: It's a tie!)
The two models are quite similar in terms of access options. Both include a standard set of features: unlocking via fingerprint, passcode, mobile app (using a Bluetooth connection), or an RFID card. In both cases, users can also get in via a backup key. This can be a convenient option if power suddenly goes out or other access options are unavailable.
Both models offer several special types of codes that can come in handy for users who get a lot of traffic through their homes. For example, if you have friends frequently coming over, it can be useful to share a timed password with them. This password will only be available during specific times of the day. Users can also configure one-time passwords which can be shared with couriers and other people dropping by for a random visit. 
Final Thoughts
Both the Keywe 360 and Starke Seamless Désignerin are great digital locks that offer a lot of features. The Keywe 360 can work great in environments where users don't have full control over their security when unlocking their door and want to avoid someone snooping on their passcodes. However, Starke's model seems to be aimed at users looking for a long-term purchase, with a more attractive price and extended warranty. So if that's what you're looking for, click here to visit Starke's website now!